A Criminal Lawyer Grand Rapids, MI Trusts On Your Side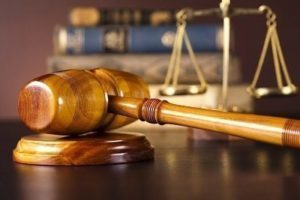 When you have been investigated, arrested, or charged with gun crime, a criminal lawyer at Blanchard Law in Grand Rapids, MI is ready to defend you. Guided by many years of experience, we have what it takes to defend gun crime charges of every type and complexity. For a free consultation call us today.
The Second Amendment gives every adult American the "right to bear arms". However, these rights are typically regulated by approximately 20,000 federal and state laws.This makes things very confusing for people who often believe no more than their Second Amendment right. Furthermore, being conscious of what is and is not an illegal offense might be easier said than done. As criminal lawyers serving Michigan, we have helped thousands of clients fight their cases. Best of all, we have gotten the results many of our clients were looking for.
What We Do
Blanchard Law's criminal lawyers in Grand Rapids, MI defend a broad range of charges including:
Illegally carrying a concealed weapon

Domestic violence involving a gun

Felony gun or weapons charge

Sexual assault with a gun

Homicide or manslaughter

Unlawful use of a gun

Unlawful sale of a gun

Assault with a deadly weapon

Illegal discharge of a weapon

Intoxicated while operating a firearm

Carrying a firearm into a courthouse, school airport, racetrack, etc.
Penalties for a gun charge crime may include:
Fines and fees

Jail or prison time

Probation

Permanent record

+ More
If a silencer, machine gun, sawed off shotgun, or short barreled rifle is part of your charges, the penalties could be considerably harsher. It may be in your best interest to contact an experienced criminal lawyer in Grand Rapids, MI as soon as possible.
Is a Criminal Defense Lawyer Needed
Technically you can choose to have a court appointed lawyer, but opting for this legal representative could be a regrettable decision. These people tend to be significantly overworked and often to not have the time needed to thoroughly investigate a case. While they might be present at court hearings or a trial, they may be unable to build a strong enough defense to win your case.
Whether you are facing felony or misdemeanor gun crime charges, a private criminal defense lawyer can be highly beneficial. As gun crime laws become more complex and the penalties grow, you should have someone who's full time job is to able to monitor and adapt to the current, and potential future, landscape. The criminal lawyers at our firm are knowledgeable and have spent years in the business. With our skillset, dedication, creative strategy, and aggressive approach to protecting the rights of our clients, a Grand Rapids, MI criminal lawyer is ready to provide you with the best defense possible.
Blanchard Law is widely recognized as one of the most trusted firms in the Michigan community. We understand the worry, fear, and anxiety that follows an arrest. We know that one charge can tear a family apart, destroy reputations, and pick apart the life you may have worked so hard to build. We are dedicated to defending you and the life you have built. This process might involve challenges and hurdles, but with the right legal representation, the road to freedom may become a little bit easier. If you are ready to discuss your case with a criminal lawyer in Grand Rapids, MI from Blanchard Law, please call us today!