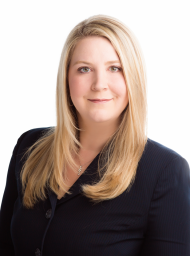 Keeley D. Blanchard
Attorney
Book Appointment
My Grandmother, or "Gramma" as her dozens of grandchildren and great-grandchildren called her, was the biggest influence in my life growing up. While my parents worked non-stop, it was her that would wrap me up in her soft hugs, and feed me homemade cookies and cinnamon rolls and strawberry shortcake until I couldn't eat anymore. I never felt safer or more loved than when I was with Gramma.
Gramma was one of many kids from a big family in Mecosta County. Her life growing up wasn't without struggle, but when she became an adult, she helped my Grandfather to build a bird feeder manufacturing company in Coopersville, Michigan that became a success, and helped them provide for my dad and his four sisters.
It was as a part of the community there that Gramma became a force of nature, and the things that she did have caused me to become the person that I am today. Besides all of the time that she spent in the kitchen making goodies for me and my cousins, Gramma was incredibly active in the community and in her church. She was always saving someone. She started a food and clothing pantry that served the less fortunate in her community, brought multiple families into her home to live with her family while they got back on their feet, and always did everything she could to help anyone in need. But more importantly, Gramma stood up for those people who needed an advocate. She fought within her community and her church to achieve equality for women and for minorities. The sweet, quiet, kind woman who loved to bake had a side to her that was absolutely fierce.
It was Gramma's sense of justice that led me to my career as a lawyer. While Gramma never had a law degree, she knew what justice truly meant. She instilled in me the values that I carry with me now, even though she's gone. She inspires me to treat those for whom I seek justice with the utmost respect, love, and kindness. She taught me what it truly means to develop a relationship with those I am fighting for.
I love being a criminal defense lawyer. It gives me the opportunity to help people, many times in the same way that I watched Gramma help people as I was growing up. It is my goal to make my clients feel safe and loved, and when they are being attacked, whether it's by the police, a prosecutor, a judge, or another person, they can count on me to fiercely defend them.
This career has been so much more than a job for me. It has given me the opportunity to create a "family business", just like my grandparents and parents did before me. I work with my wonderful husband, Josh, who inspires me every day to be a better lawyer and better person. My co-workers, April, Melissa, and Duane ("Duke") are also very much a part of my family. It has given me the opportunity to be active in the community that I love. I love to help out at my son Jack's elementary school, and coach his youth league basketball team and soccer team for the recreational center. This job has blessed me with what feels like a second home, in Dubois, Wyoming, where I teach trial skills to other lawyers for the Trial Lawyers College at a beautiful place called the Thunderhead Ranch. There, I help to train others to love their clients the way that I love mine, and to fight with everything we have to defend real people against the power of the government and large corporations. I have wonderful colleagues within the Criminal Defense Attorneys of Michigan, and they have also provided me with the opportunity to train other lawyers as an instructor in their Evidence Boot Camp.
I am a trial lawyer. If you have the opportunity to become my client, you'll also find that I am a caretaker, a mom, a teacher, a friend, a human-being with both strengths and faults, and a fighter. I believe that being a criminal defense lawyer is about more than simply providing my clients with their constitutional protections. It's about serving them the way that I would want to be served, or the way I would want those closest to me to be served by an attorney. I am selective in the cases that I accept, and keep my caseload extremely low so that I can always be available when my clients need me.
To contact Ms. Blanchard, please call our office at (616) 773-2945.