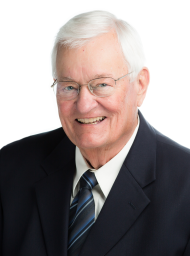 Duane A. Carr (1939-2020)
Attorney
Book Appointment
Duane A. Carr (1939-2020)
Back in the 1960's, I was recently married and pursing an undergraduate degree in Chemistry at Central Michigan University. I was working in a lab at Dow Chemical in Midland, and after graduation from CMU, I quickly learned that in order to advance at Dow, I would need to get an advanced degree.
Seemingly everyone around me was going back to school to get a Masters in Business Administration, and that seemed as good of a path as any to me in trying to advance at Dow. I started the application process at CMU for my MBA, and all the requirements made it feel like they were sending me back to freshman year of my undergraduate. I'd like to say that I had a passion or calling for the law, but the truth is that I just figured if I had to do all that work to get an MBA, I might as well go to law school. So, that's what I did.
Dow transferred me to the sales department and sent me to Detroit, where I attended law school at Wayne State University at night for four years. I graduated and was sworn in as an attorney on November 27, 1970. I knew I wanted to return home to Montcalm County, and that's where I began my practice. Turns out, the choice to go to law school was a good one. I have always gotten a lot of happiness out of the practice of law.
It was only two short years later, in 1972, that I was elected as the prosecuting attorney for Montcalm County. It is one of my fondest memories of practicing law. It was a great learning experience – it was demanding, and challenging, and allowed me to do a lot of trial work.
The trial work was always something that I loved, even as I later moved into private practice. I have seen huge changes along the way. The practice of law is much more efficient and technology based now, and it's become more formal than it used to be, especially in some of the smaller counties. After 48 years of practice, I'm nearing the end of my career, but I love watching where this firm is headed. The lawyers in this firm are true trial lawyers, and they thrive on the same things that I did when I did trial work – the demands, the challenges, and serving their clients.
I still head into the office, and serve a handful of clients in mostly commercial matters, but I'm also here as a resource to consult with the other attorneys in the firm. I'm not taking on any new clients. I'm trying to focus on enjoying this place that I have called home all these years, on doing some farming with my sons, and spending time with my wife, Verna, our kids, and our grandchildren and great-grandchildren.