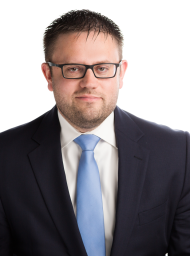 Joshua A. Blanchard
Attorney
Book Appointment
I sometimes jokingly say that I went to law school because I was lied to about how much fun it would be to be an accountant. I'm not sure it's a compliment, but my wife (and law partner) says that I have the prototypical lawyer personality and she can't believe I would do anything else. The reality is that on most days, I love what I do and love being able to help good people out of bad situations. I also enjoy the problem-solving involved in being a criminal defense attorney.
As a child I moved around quite a bit, living in 5 states before fifth grade. I landed in Michigan in fifth grade and this feels as much like home as anywhere. I graduated from Greenville High School and went to college in Midland, Michigan where I earned an Accounting degree from Northwood University with minors in Management Information Systems and Mathematics.
During the great recession, I commuted to law school in Lansing at night while working full time at a newspaper in Clare, Michigan. After law school, I went on to open my own practice as a solo practitioner. When I first started, I did almost anything that came through the door. After about a year, I joined the firm of Miel & Carr, PLC which later became Blanchard Law. In my early years at Miel & Carr, PLC, I began to limit my practice to criminal defense. Today, my practice is limited to criminal defense and police misconduct claims.
I live with my wife, step-son, and dog just outside of Greenville. We're fortunate enough to live close enough to the office that on days I don't have court, I can ride my bike to the office. Given the amount of time we spend on the road, I value the time we get to spend around home. In my free time, I enjoy woodworking and working on projects around the home.
Professionally, I serve the criminal defense community by managing an e-mail listserv with about 500 criminal defense lawyers, am a director for the Criminal Defense Attorneys of Michigan, and am the past chairman of the Criminal Law Section of the State Bar of Michigan. I have attended the Trial Lawyers College, the CDAM Trial College, and the Death Penalty College. I have defended cases in many Michigan state courts, in federal courts, and across the country in association with local counsel.
In addition to being a lawyer, I am a certified forensic computer examiner. Specifically, I have earned the highly regarded GIAC Certified Forensic Examiner credential. This allows me to help my clients who are facing computer crimes because I have the knowledge necessary to confront the government's expert witnesses. It also allows me to help other lawyers as co-counsel when they need additional assistance dealing with technical issues.
I am admitted to practice law in:
State of Michigan
United States District Court – Western District of Michigan
United States District Court – Eastern District of Michigan
United States District Court – Northern District of Illinois
United States Court of Appeals – Sixth Circuit.
If you've been charged with a crime and would like to schedule a consultation with Mr. Blanchard, please call our office at (616) 773-2945.